The double-shaft shredder for sale in Germany is a slow speed shredding equipment designed for processing various materials. The double-shaft shredder can handle most types of materials, from waste paper to plastics and hard goods. The advantage in this process of double-shaft shredders is the low speed of rotation of massive shafts, which makes it possible not to quickly grind large, hard products or chew plastic ones, grinding them into crumbs. The manufacture of parts from wear-resistant metal in combination with this principle of operation also helps to save the double-shaft shredder from damage, since there is no constant impact at high speeds. The speed of rotation of the working parts of the shredder reaches about 100 revolutions per minute.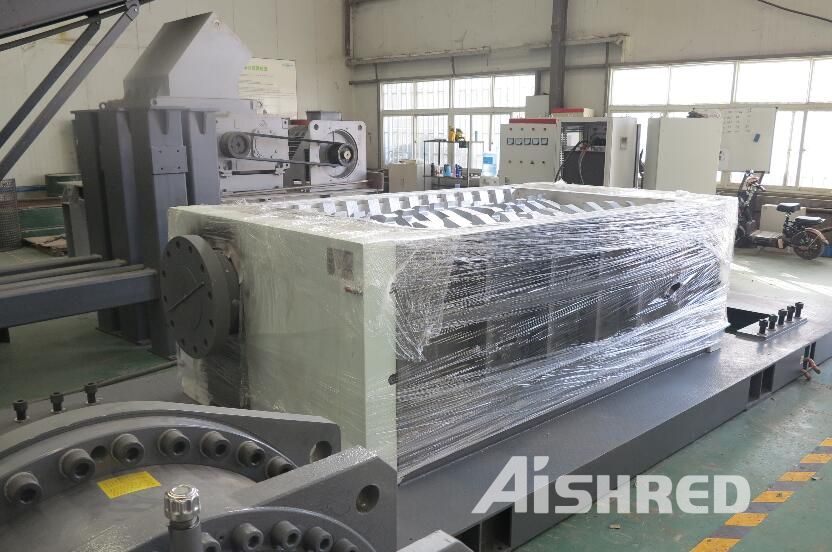 The shredder provides efficient processing with knives that look like discs with protruding teeth. The cutters are mounted directly on two rotors that rotate towards each other, are installed in a checkerboard pattern and leave a space on each of the shafts, into which, during rotation, the knives of the opposite shaft freely pass. The dense arrangement in the shredder body allows not to miss large parts of the material and to crush it as much as possible. At the bottom of the double-shaft shredder, a calibration grid is installed, which makes it possible to obtain a crushed product of a uniform fraction after processing. The double-shaft shredder has large dimensions due to its specification.
The good performance of shredders allows them to be used in lines with a large amount of processing. Before you buy our shredding equipment, you can conduct a test run on your raw materials, the terms can be found with our managers.