With the continuous development of modern industry, the number of various hazardous wastes is increasing, and a variety of hazardous wastes have a variety of dangerous characteristics, including radioactive, infectious, corrosive, flammable and explosive, chemical reactive and toxic, hazardous waste disposal industry ushered in a period of rapid growth. Data show that the existing capacity of hazardous waste is mainly for comprehensive utilization of resources, and the capacity gap of harmless disposal of hazardous waste in China alone is about 20 million tons/year.
If hazardous waste is not properly disposed and managed, it can easily pollute the environment and seriously affect human health and the ecological environment.
This kind of hazardous waste harmless treatment has been widely used, hazardous waste harmless treatment in the beginning is shredding treatment, for example: IBC ton drums, 200L iron drums, plastic drums, ton bags, paint drums broken to reduce the volume, easy to follow the treatment, the current hazardous waste treatment technology is more mature treatment method is incineration, waste treatment and disposal process is mainly through the rotary kiln incineration of hazardous waste.
AISH're'd hazardous waste pre-shreddingAISHred technology equipment as the front-end equipment for hazardous waste treatment and the subsequent incineration of hazardous waste or other treatment methods is very important. At present, the most common pre-treatment process used in the hazardous waste industry is the shredding system, after shredding pretreatment of most of the waste is directly or indirectly into the pit, and then through the grab into the brick kiln feed port.
AIShred tower type hazardous waste shredder system integrates research and development, manufacturing, sales and equipment after-sales service with one year.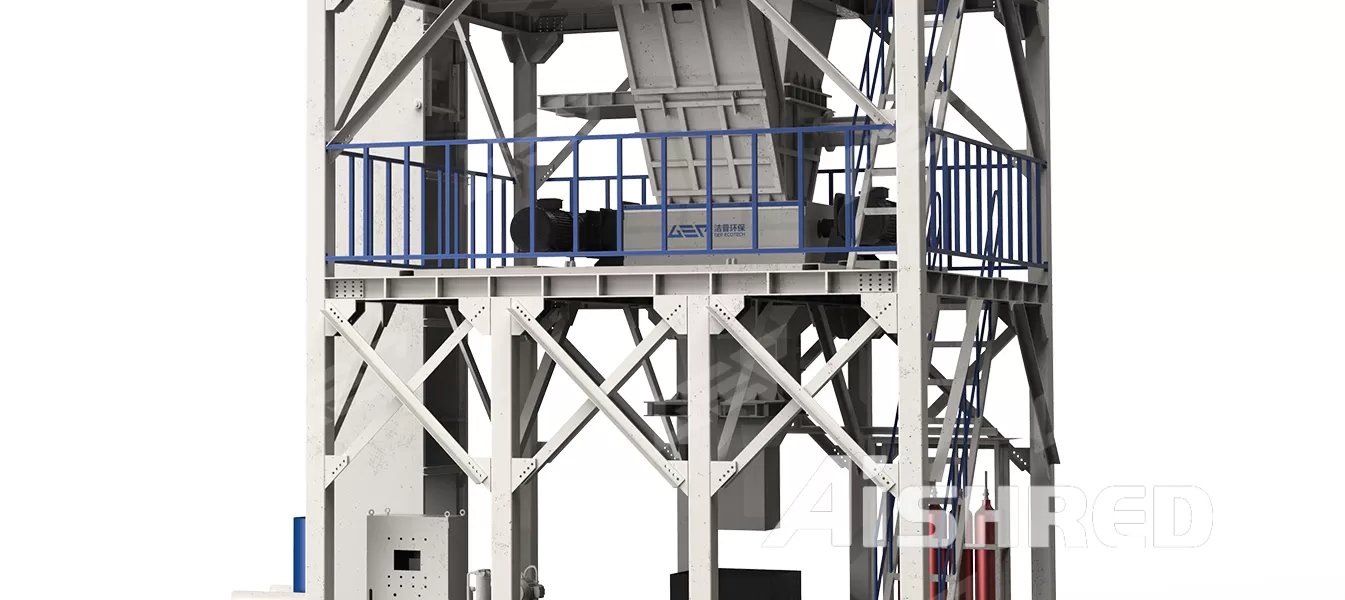 Technical advantages
1. Imported hydraulic technology
Constant power control, high torque and long life; mainframe design damping device to improve the stability of equipment operation.
2. Automatic fire fighting system
Equipped with automatic fire-fighting device, the equipment can automatically detect, automatically stop and close the fire gate when it encounters a fire, and automatically start the fire-fighting system to protect the safe operation of the production line in real time.
3 High quality control
AIShred workshop has more than 100 sets of large CNC machining centers, in strict accordance with ISO9001 for production processing, quality control and high-precision processing, craftsmanship out of fine products.
4. Real-time monitoring
Hazardous waste shredding intelligent control system, multiple intelligent operation and maintenance protection system, real-time online monitoring, production data can be retrospectively analyzed.