As an essential material in people's daily lives, waste tyres are increasingly becoming a disposal problem with the development of the automotive industry. The tyres themselves are highly utilisableThe following are the two most common tyre recycling processes.
Pyrolysis: Pyrolysis is one of the most thorough methods of treating automotive waste rubber. Cracking treatment has no pollutant emissions, and can also recover fuel oil and carbon black, which is conducive to environmental protection and resource utilization and has high economic value, and is considered one of the best ways to treat waste tyres at present.
Made into rubber powder/particles/blocks: waste tyres are made into rubber powder by normal temperature crushing method, normal temperature chemical method, etc. Rubber powder is widely used in sports plastic sports field, playground, rubber floor tile, waterproofing membrane, waterproof coating, highway modified asphalt, rubber products and other fields.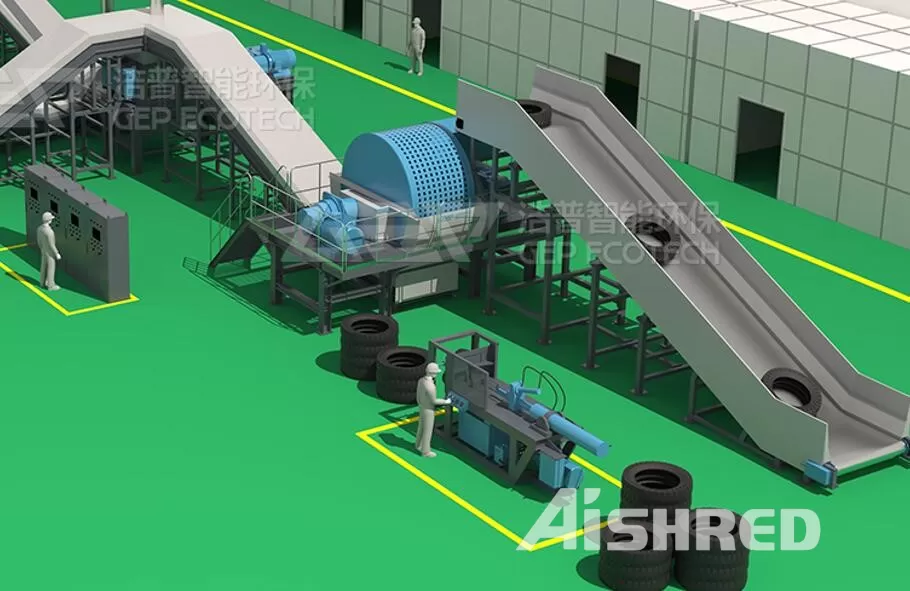 In terms of making rubber powder, we currently have very sophisticated disposal solutions for waste tyres.Conventional solutions are generally: double-shaft shredder (pre-shredding) + trommel screen + wire separator + rubber breaker + fibre separator + magnetic separator.
If you are interested in our disposal solutions, please do not hesitate to contact us. A dedicated business manager will be available to contact you and tailor-make a solution for you based on your material and disposal needs.