Construction and demolition (C&D) waste generally constitutes about 10%–20% of total urban solid waste, it includes bricks, tiles, stone, soil, rubble, plaster, drywall or gypsum board, wood, plumbing fixtures, non-hazardous insulating material, plastics, wall paper, glass, metal (e.g., steel, aluminium), asphalt, etc. C&D and other inert waste may be utilised for making bricks, pavement blocks, construction materials such as aggregates etc.The use of C&D waste will minimise the cost of managing such waste and requirement for valuable landfill space, and also save natural resources and reduce the use of virgin soil.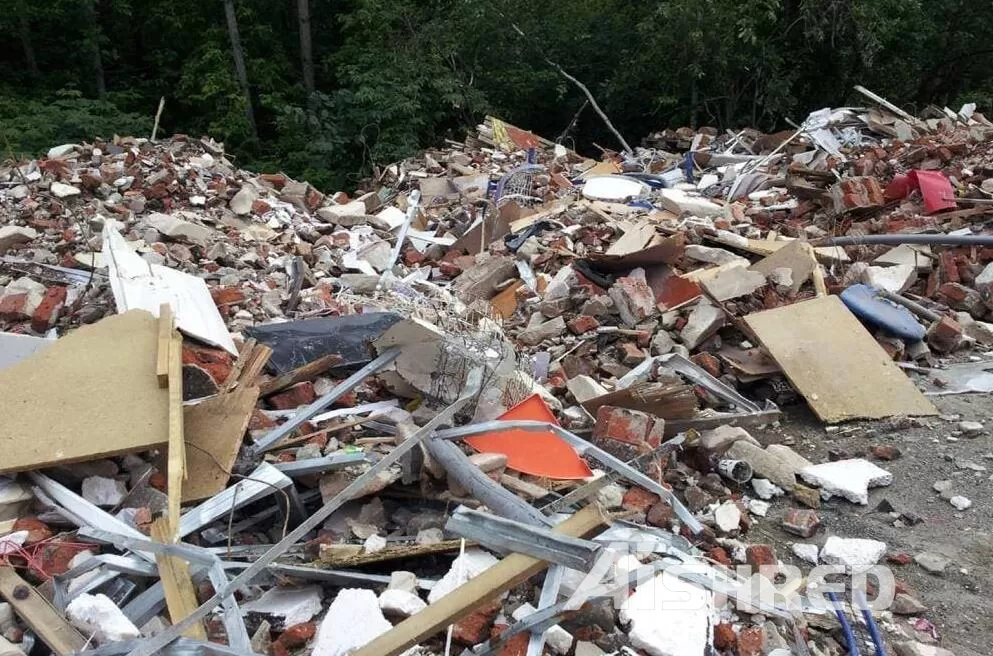 Benefits of Processing C&D Waste
C&D waste can be put to a profitable use, given the scarcity of sand and stone for construction, thereby saving natural resources.
It prevents public nuisance and traffic congestion issues arising from indiscriminate dumping of C&D waste.
It saves valuable space at landfill sites.
It reduces cost of bulk transportation if recycled close to source of generation.
C&D Waste Process Flow
Incoming waste is subjected to weighment at the site
Undesirable items like rags, plastics, metal, fibre reinforced plastic (FRP) sheets, etc. are segregated through mechanical and manual means
Remaining waste is segregated into three parts

whole bricks (kept for internal use and sale),
large concrete, and
mixed C&D waste.

Depending on the waste inflow and its quality, the waste is processed
C&D Waste Process Technology
Initially, the dry process was developed, in which loose soil was removed and the C&D waste was crushed and screened in stages to get the desired range of product sizes. However, in mixed C&D waste, considerable quantity of loose soil and grit is present which cannot be converted into useful products. To overcome this problem, the "wet" process was developed. In this process, the size grade of sand—4.75 mm to 75 μ (0.075 mm)—was extracted in the form of "manufactured sand." The remaining fraction <75 μ was silt, which was removed. In this process, residue was drastically reduced.
Collected C&D waste is first screened through the grizzly to remove loose soil and grit.
Oversized screened materials are collected in the hand sorting section where bricks and concrete are separated.
Segregated bigger concrete boulders as well as mixed concrete are broken using rock breakers. Thereafter crushing is done by jaw or impact (horizontal or vertical shaft) crusher, depending on the material, size of operation, and targeted end use.
Multilayered vibro-screens with suitably sized interchangeable screens have been used for size grading the crushed material. This is the "dry" process. The different sizes of aggregates are used to make value-added products as mentioned below.
In the wet process for extracting manufactured sand, C&D waste is crushed and then passed through a washing and screening train comprising log washer, vibro-screens (3-deck prograde screen), evo-wash, evo-screen, thickener and filter press to remove the silt material and recycle the water. Only about 15% make up water is needed to run the wet process.
The wet processing technology is effective in controlling dust and noise, which is also important for protect the health of employees.
C&D Waste Recycling Products
The processed waste is being used for making road sub-base—granular sub-base (GSB)—and making pavement blocks and pre-cast products like curbstones, paver blocks, and square tiles. The loose soil separated by the grizzly is sold. The manufactured sand is used for making ready-mix concrete for nonstructural application and lean concrete.
Complete C&D Waste Recycling Solution Provider
AIShred designs and manufactures facilities for handling construction and demolition waste, and can provide stationary and mobile plants for various size projects as well as single machines for the existing facilities. Checkout AIShred C&D Waste Crushing & Recycling Solutions.